Foodretail meets Foodservice Congres op 10 november 2021
Thema: 'Are you being served?'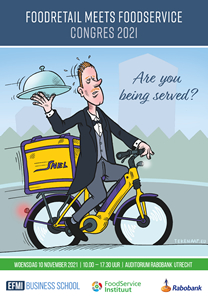 COVID-19 heeft grote impact gehad op de business van Foodretail & Foodservice. Miljarden euro's zijn – al dan niet tijdelijk – van kanaal verschoven en de deliveryomzet schoot naar ongekende hoogtes. Veel durfkapitaal vloeit naar concepten die thuisbezorging faciliteren. Nu het einde van de pandemie in zicht is, is het de vraag welk consumentengedrag weer 'back to normal' gaat en wat er blijvend veranderd is.
Foodretail meets Foodservice Congres 2021
Op woensdag 10 november a.s. organiseren EFMI, FSIN en Rabobank het FOODRETAIL MEETS FOODSERVICE CONGRES 2021.
Deze alweer 5e editie van dit congres vindt traditiegetrouw plaats in het Auditorium van Rabobank in Utrecht en staat volledig in het teken van het thema 'ARE YOU BEING SERVED?'. In coronatijd zijn nieuwe vormen van service (verder) opgekomen: digitale service, bezorgservice of juist service gericht op beleving. Diverse topsprekers gaan in op de vraag hoe hun bedrijven (met nieuwe servicevormen) inspelen op het snel veranderende consumentengedrag.
Programma en sprekers
Binnenkort verschijnt hier het volledige programma. Sprekers zijn o.a.:
> John van den Ent | CEO Spar | Van buurtsuper tot ultiem gemaksconcept
> Andreas Vente | Head of Buying Getir | Flitsbezorging: boodschappen binnen 10 minuten
> Lydi Siebers | CMO HelloFresh | De maaltijdbox als inspiratiebron
> Robèr Delver | Formulemanager PLUS | Gemak & beleving bij PLUS
> John Martens | Co-founder DoorB | De lokale bakker online
> Dik Pijl | CEO Nederlandse Expert Groep | Online als reddingsboei van fysieke retail?
> Rick Zeelen | CEO Vermaat | De case van Vermaat en het Rijks
We gaan in op hoe de business van deze bedrijven is veranderd en hoe zij naar de toekomst kijken. Met welke ontwikkelingen houden zij rekening? Waar liggen kansen en uitdagingen?
Aanmelden
Het Foodretail meets Foodservice Congres is normaliter een druk bezocht congres. Wegens COVID-restricties kunnen we dit jaar aanzienlijk minder deelnemers verwelkomen (maximaal 175). Wacht dus niet te lang met aanmelden als je wilt deelnemen.
We kijken er naar uit om elkaar weer live te ontmoeten en tegelijkertijd een fantastisch inhoudelijk programma neer te zetten, waarna iedereen met veel stof tot nadenken en nieuwe insights naar huis gaat!
Programma downloaden Direct inschrijven