Informatiebijeenkomst Executive MBA (online) op 30 juli a.s.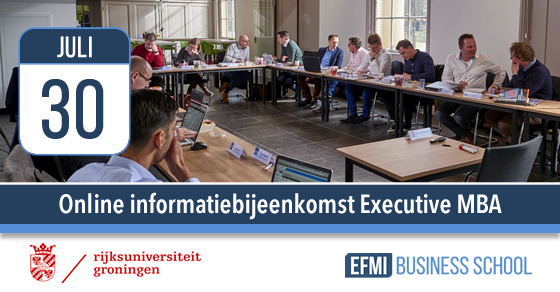 Binnenkort is er ruimte voor nieuwe instroom in onze Executive MBA voor Food & Retail professionals. Daarom organiseren EFMI Business School (EFMI) en University of Groningen Business School (UGBS) op donderdag 30 juli a.s. (15.00-16.30 uur) een online informatiebijeenkomst.
De Executive MBA is bestemd voor leidinggevende managers en ondernemers (food retail en leveranciers) die doorgroeien naar een sleutelpositie of deze reeds bekleden.
De nieuwe leergang start op donderdag 3 september en heeft al voldoende deelnemers om door te kunnen gaan. De lesdagen zijn uiteraard Corona-proof!
Lees meer in de informatiebrochure  of  Kom naar de informatiebijeenkomst