Nieuwe EFMI-studie: Prijs- en PromoScanner
Een analyse van A-merken en huismerken bij Albert Heijn, Jumbo en PLUS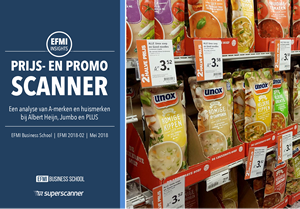 In november 2017 publiceerde EFMI Business School het management­rapport 'We houden de prijzen laag'. In die studie presenteerden we een uitgebreide analyse van Jumbo's 'Nieuwe Lage Prijzen' strategie die in week 39 van 2017 door het Veghelse supermarktbedrijf werd gelanceerd.
Centrale thema's in de studie
In deze nieuwe prijs- en promotiestudie analyseren we samen met Superscanner de ontwikkelingen die sindsdien hebben plaatsgevonden. In onze analyse focusssen we ons op de drie (qua marktaandeel) grootste servicesupermarkten van Nederland: Albert Heijn, Jumbo en PLUS.
De volgende vragen staan in dit managementrapport centraal:
1. Ontwikkeling reguliere prijzen
Analyse van de reguliere prijsontwikkeling van de formules door middel van een index ten opzichte van het eigen prijsniveau in week 36 van 2017. We benadrukken dat deze index niets zegt over mogelijke prijsverschillen tussen de formules. Het prijsverloop van de formules wordt door het gebruik van de index wel inzichtelijk en vergelijkbaar.
2. Ontwikkeling prijspromoties
Analyse van de looptijd, intensiteit (% van het assortiment in promotie) en diepte (kortingspercentage) van de prijspromoties.
3. Verband tussen promo-intensiteit en -diepte
Analyse of de formules in perioden met veel prijspromoties ook dieper afprijzen of juist andersom.
Rapport downloaden
EFMI-bedrijfsleden kunnen het rapport 'Prijs- en PromoScanner' downloaden en vervolgens openen met het wachtwoord dat zij per e-mail hebben ontvangen. Daarnaast kunnen zij het rapport zonder wachtwoord downloaden in EFMI Online.
Download rapport Inloggen EFMI Online  (exclusief voor EFMI-bedrijfsleden)
Nog geen EFMI-bedrijfslid?
Het EFMI-bedrijfslidmaatschap staat open voor retailers, fabrikanten en dienstverlenende organisaties uit de levensmiddelensector. Per bedrijf ontvangen 3 tot 5 medewerkers alle managementrapporten, uitnodigingen voor evenementen, nieuwsbrieven en andere relevante informatie.
Lees meer in de informatiebrochure