Privatelabelfabrikant: van lelijk eendje tot prachtige zwaan
Column Laurens Sloot (FoodPersonality - januari 2017)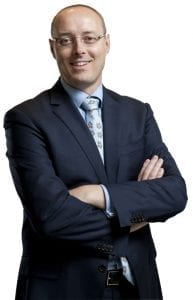 In de jaren negentig verrichtte ik samen met collega Peter Verhoef een onderzoek naar de vraag hoe merkfabrikanten om zouden moeten gaan met de opkomst van huismerken. Daar hebben we toen zelfs nog een boekje over geschreven: 'Private label: vriend of vijand?'. Veel A-merkfabrikanten zagen huismerken toen nog niet als een bedreiging. Er werd eigenlijk een beetje hautain over gedaan: "Daar concurreren wij niet mee, dat is hooguit relevant voor B- en C-merken." En het produceren van huismerken stond gelijk aan vloeken in de kerk. En als dit al gebeurde, dan liep men er zeker niet te koop mee.
Nu, twintig jaar later, is de situatie compleet anders. De huismerkomzet is meer dan verdubbeld, huismerken zijn kwalitatief beter geworden en de fancy labels van Aldi en Lidl komen blind getest vaak als beste naar voren. Als u dat niet gelooft, sla er dan voor de aardigheid de tests van de Duitse Stiftung Warentest maar eens op na.
Met de groei van huismerken heeft ook de achterliggende privatelabelindustrie zich snel geprofessionaliseerd. Een bedrijf als Refresco heeft zich in 15 jaar tijd opgewerkt van lokale sappenproducent tot een dominante kracht in Europa. Bij de beursgang in 2015 was de geschatte ondernemingswaarde € 1,7 miljard. Goedemorgen! En zoals Refresco zijn er vele prachtige voorbeelden van 'lelijke eendjes-fabrikanten' die zich in no-time tot 'prachtige zwaan' hebben ontwikkeld. Wat dacht u bijvoorbeeld van bedrijven als Intersnack, Dally, All Crump, Boboli en Wouter de Graaf? Stuk voor stuk pareltjes, en niet omdat ze pronken met A-merken.
Hebben A-merkfabrikanten zich het kaas van de brood laten eten door de snel groeiende privatelabelmarkt te negeren? Persoonlijk vind ik van wel. Niet alleen hebben veel A-merkfabrikanten een segment genegeerd dat inmiddels goed is voor 35 tot 40% van het volume, ook hebben ze onderschat welke kwalitatieve ontwikkeling de privatelabelproducenten hebben doorgemaakt. Want veel privatelabelproducenten produceren minimaal net zo goed als A-merkfabrikanten.
De professionalisering van de privatelabelindustrie biedt ook een nieuw strategisch perspectief. Moet je als A-merkfabrikant nog wel 'fabrikant' willen zijn? Of kun je de productie beter uitbesteden aan de specialisten in het veld: de privatelabelbedrijven? Dan kun je je volledig richten op daar waar je goed in bent als A-merk: consumer insights genereren, productverbeteringen en innovaties, marketing en merkenbouwen. En je bespaart meteen een hoop investeringsgeld dat nu nog in de fabrieken vastzit. Dat zal ook de cfo best aardig vinden.
Sommige partijen schakelen snel. Zo is het een publiek geheim dat Unilever ongeveer 1/3e van haar productie bij derden heeft ondergebracht en heeft Refresco in 2016 het bottelproductiebedrijf van PepsiCo in Hamburg overgenomen. Voor PepsiCo een mooie deal, maar ook voor Refresco. En waarom zou dat niet handig zijn? Het is een praktijk die bedrijven als Apple en Nike al lange tijd met veel succes toepassen.
Geleidelijk kan daarmee ook het woord A-merkfabrikant in de prullenbak. In de toekomst spreken we alleen nog over A-merkleveranciers. Door wie dat wordt geproduceerd, is niet relevant; zolang je als A-merk maar de regie in handen houdt.