Foodretail meets Foodservice Congres op 15 februari 2017
Hoe 'blurring' het food landschap van morgen een nieuw gezicht geeft
Waarom een Foodretail meets Foodservice Congres?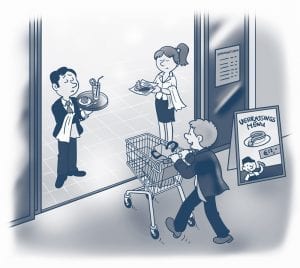 In een tijd waarin consumentengedrag snel verandert, is het belangrijk om bij de les te blijven. Met name de 'blurring-trend' blijkt een enorme bron van inspiratie voor vernieuwingen in de foodsector. Doordat foodretail en foodservice op elkaars terrein komen krijgt de voedselketen niet alleen te maken met talloze innovaties, maar komen ook de bestaande verdienmodellen onder druk. Foodservice systematiseert en levert haar iconische producten graag aan de consument thuis en foodretail neemt koks in dienst in plaats van slagers en verleidt de consument om ter plekke te consumeren. Het is dan ook niet gek dat Van der Valk met een verssuper komt, dat AH to Go verse hamburgers serveert, restaurants rechtstreeks inkopen bij de boer en dat Picnic met maaltijdservices begint. De foodsector is nog nooit zo dynamisch geweest!
Initiatief van EFMI Business School, FoodService Instituut Nederland en Rabobank
Om de blurring-trend en de impact op foodretail en foodservice verder te verdiepen hebben EFMI Business School, FoodService Insitituut Nederland en Rabobank de handen ineen geslagen. Op woensdag 15 februari wordt het eerste "Foodretail meets Foodservice Congres" georganiseerd. Niet alleen zal de concurrentie tussen beide kanalen door de blurring-trend toenemen, ook kunnen zij veel van elkaar leren. En dat is ook nodig, want uiteindelijk draait 'healthy business' nog altijd om 'happy customers'.
Topsprekers uit binnen- en buitenland
Gedurende de dag wordt u bijgesproken over de vele blurring-ontwikkelingen door topsprekers uit binnen- en buitenland, die hun business cases toelichten. In de ochtend wordt de blurring-trend vanuit een kennisperspectief verder uitgediept, terwijl we na de lunch meer de praktijk induiken. Met topsprekers van gerenommeerde bedrijven als La Place/Jumbo, AH to Go, Manor en Market
Food Group (van o.a. Le Perron) gaan we dieper in op actuele cases. We sluiten de middag af met een paneldiscussie, waarin we enkele nieuwe initiatieven bespreken met visionaire ondernemers.
Download programma Direct inschrijven