Top Executive Program
Een intensieve verkenning van de grote transities van de 21ste eeuw en hun effect op strategie, business modellen en leiderschap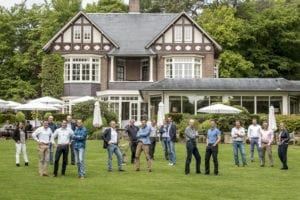 De nationale en internationale context van het bedrijfsleven verandert snel. De steeds verder voortschrijdende digitalisering van onze samenleving, data-gedreven businessmodellen, toenemende verzadiging van afzetmarkten met consolidatie als gevolg en de steeds grotere druk op het bedrijfsleven om zich "verantwoord" te gedragen, verantwoordelijkheid te nemen voor people, planet and profit, zijn slechts enkele van de vele veranderingen waar onze bedrijven een antwoord op moeten vinden. Het tempo van verandering ligt hoog omdat we in de genetwerkte internationale wereld geen geografische rem/barrière meer kennen.
Programma
Het EFMI Top Executive Program gaat in detail in op deze grote transities in de context van onze bedrijven. In het bijzonder kijken we naar de consequenties die deze veranderingen hebben voor de samenleving, economie, strategieformulering, organisatieveranderingsprocessen en leiderschap.
Het programma bevat in totaal 14 lesdagen, verdeeld over 6 modules, waarin de deelnemers zich buigen over de essentiële dimensies van het hedendaagse management: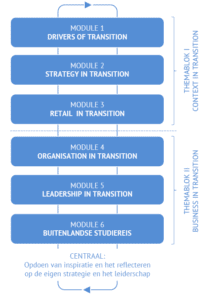 Themablok I: Context in Transition
▪ Module 1 – Drivers of Transition
▪ Module 2 – Strategy in Transition
▪ Module 3 – Retail in Transition
Themablok II: Business in Transition
▪ Module 4 – Organisation in Transition
▪ Module 5 – Leadership in Transition
▪ Module 6 – Buitenlandse studiereis
De studiereis wordt in nauwe samenwerking met de deelnemersgroep ingericht zodat actuele interesses centraal staan.
Voor wie?
Deelnemers zijn werkzaam op directieniveau, hebben ruime werkervaring en een rol in het maken van strategische keuzes. Voorbeeldfuncties: Directieleden, DGA's en Senior Management.
Docenten
Tophoogleraren uit binnen- en buitenland en andere erkende thought leaders dagen de deelnemers in interactieve sessies uit om buiten hun bestaande kaders te treden en na te denken over één van de kerntaken als directeur: koers bepalen.
Het gehele programma staat onder leiding van programmadirecteur Koen Hazewinkel (EFMI).
Waarom het Top Executive Program?
✅ Brandstof en inspiratie om de kernvraagstukken van nu en (over)morgen het hoofd te bieden
✅ Modules vinden plaats op steeds verschillende, maar altijd inspirerende locaties
✅ Deelnemers vormen na de opleiding een waardevol netwerk
✅ Reflecteren op eigen strategie en leiderschap
Meer informatie
We sturen je graag (en uiteraard vrijblijvend) meer informatie over het Top Executive Program. Vul alsjeblieft onderstaand formulier in, zodat we je goed kunnen helpen.